Saturday morning the 6th of February there were six dogs, one cat, one ferret, one rabbit, two water turtles and a dozen goldfish.
Saturday evening there were five dogs, one cat, one rabbit AND one water turtle.  This is their story....
Pookie is a cat and, being a cat was quite able to get herself out of the house.  Her whereabouts were unknown until midnight.  When the firemen had left (two stayed the night) and things were calming down Pookie came back. She wanted to go back into the house and was not happy to be in with the rest of us and let us know by yowling. .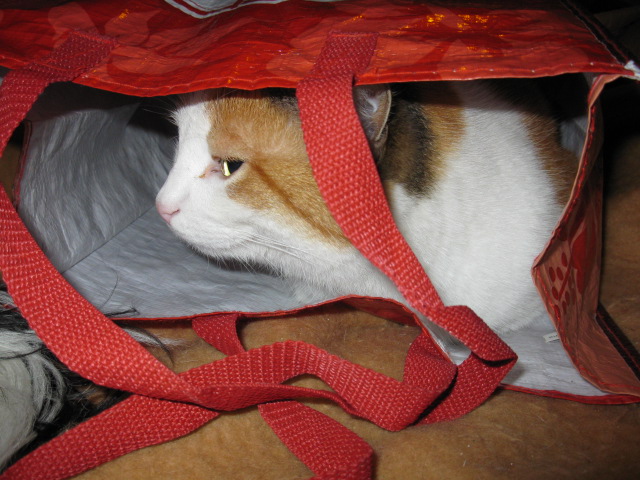 She finally found some comfort in a new home

The dogs, being dogs were just happy to have a bed.  Pearl and Aya had left with Laurent so it was just Sushi and the two guests, Petrus and Aimé.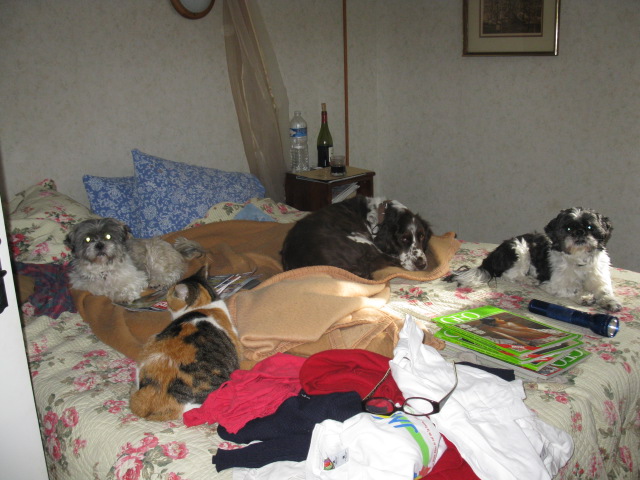 Pookie decided to join them.

And, yes in the corner,what? A bottle of wine.  A very nice Cheverny Domaind de Huards which I served at dinner for my guests. I had to test a few to confirm that they, indeed, were survivors also.  AND, YES!!  The wine has survived!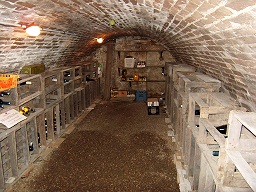 Bunny, now Bunny's survival is a mystery, at least to me.  We are having CSI Ligny le Ribault Monday and I will ask him the question. In the meantime look at this.
Bunny lived in the small greenhouse just above the dark door in the photo.

Which is just next to where the fire started.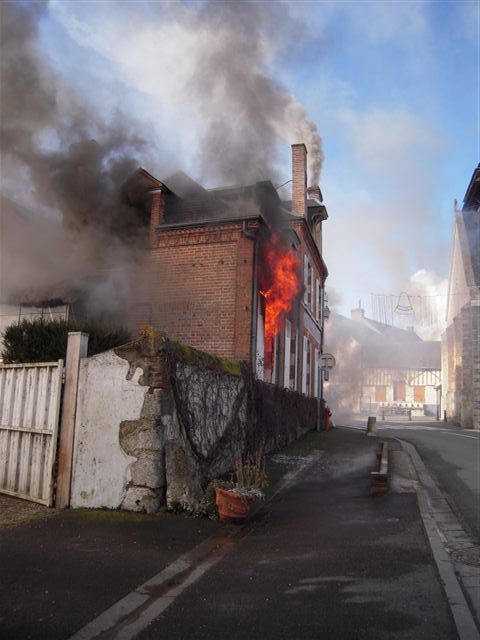 The firemen didn't bring her out until late in the night and her fur wasn't even singed!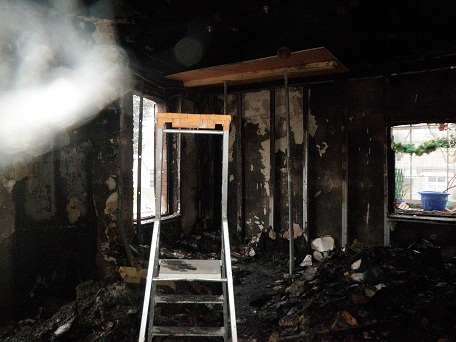 This is, or should I say, was my office, where the fire started. To the right is Bunny's "house", look at the blue pot; there is not even any smoke damage! The fire completely melted the radiator that was under that window!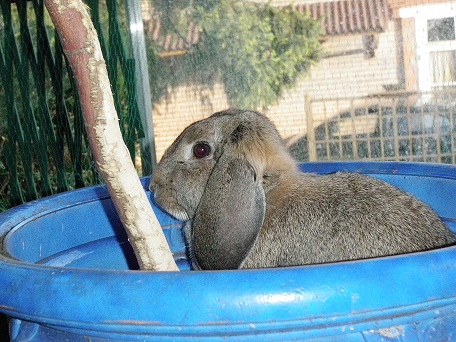 Here is Bunny in happier times in the pot that survived.
Now I have saved the best for last. For those who read my "Feeding time at a tiny zoo…" will recognize 
  Franklin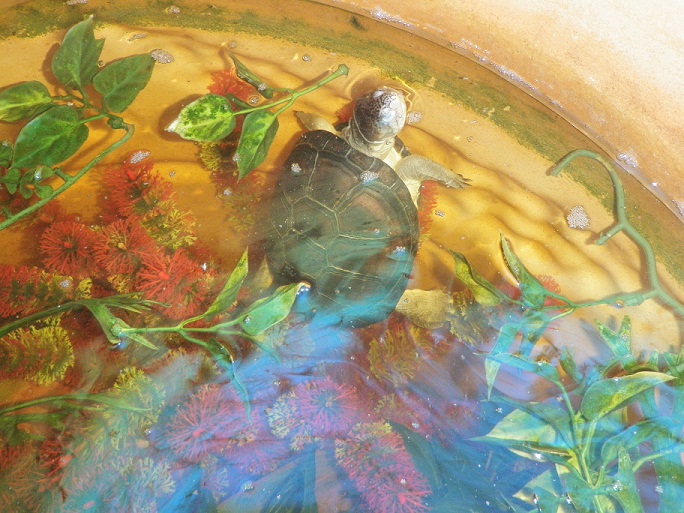 and Caroline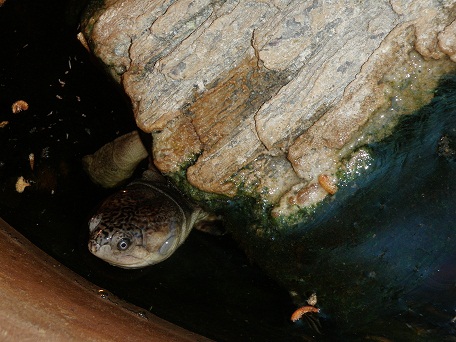 Their pots were in the dining room situated just next to the library (my office) Here is Christine and Elton in front in better days.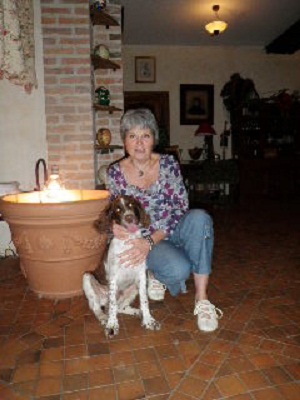 Caroline survived!  Around 11pm when the firemen were finally able to enter the house one of them found Caroline outside her pot walking around! How? I will confirm with the expert who arrives tomorrow, but here's how I look at it.
The pot was made out of PVC, the fire melted the border until it reached the water level.  It was probably about this time that the firemen started dousing the house and, above all, the library and dining area.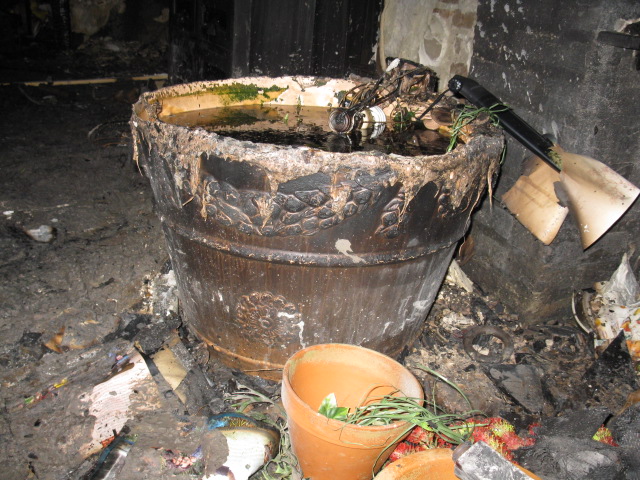 Both Caroline and Franklin made their escape.
Unfortunately we only found Caroline.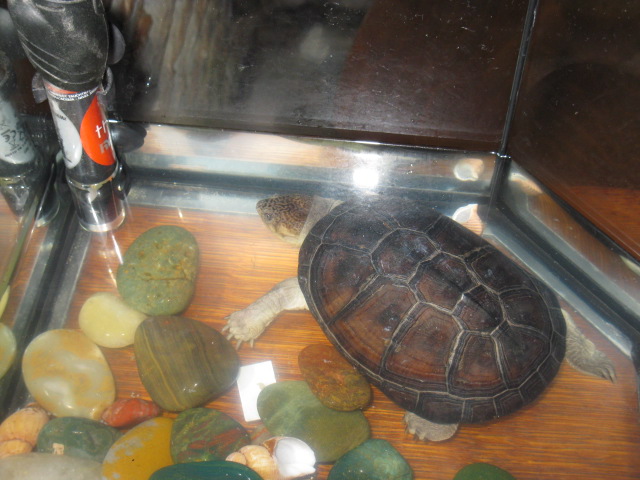 But that is already very fortunate for us!
Stinky wasn't so lucky.  She was in her cage next to my room…..we miss her.
Here she is with her buddy Pookie.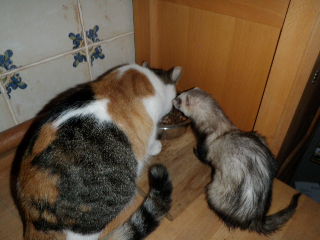 The fish…. They did not want to jump from the pot into the fire.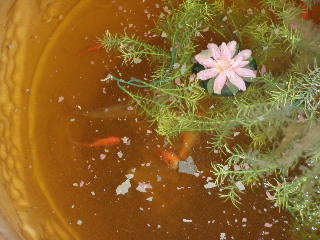 Don't blame them.
Sunday morning Sophie wanted to take advantage of Mother Nature's cooking techiniques. As I didn't dare Sophie confirmed that they were perfectly cooked!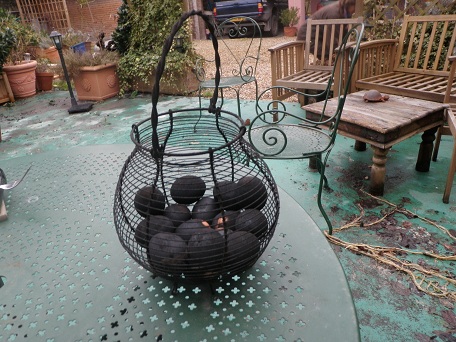 But then again, Sophie has eaten every mushroom I have collected, raw or cooked. She has complete faith!
Kristi Anderson is the orignal owner of Tea & Tattered Pages and until Februry 6th ran a bed and breakfast near Orléans.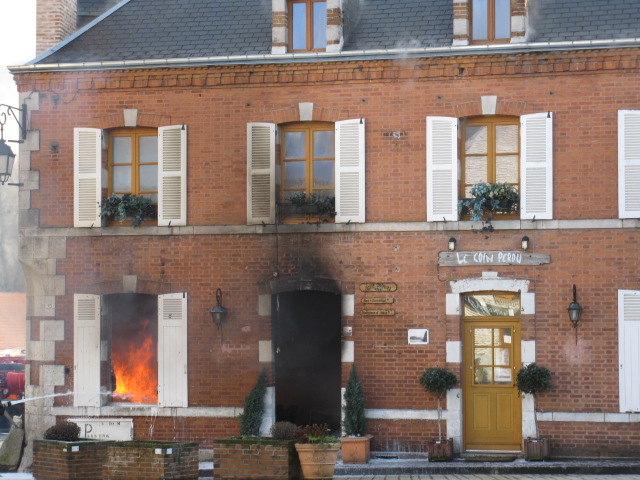 kristi anderson
le saint jacques le coin perdu
15, place de l'église
45240 Ligny le Ribault
TheAmericanFrog@aol.com